Our History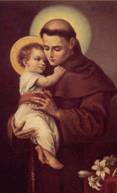 The Holy Cross Sisters who were based in the Convent in Main Road, Diep River saw the need to provide education opportunities for the children of the mostly fishermen who lived in the area, and in 1916, St Anthony's R.C. Primary School -the thatched roof cottage next to the convent- was established.
The school which offered catholic education to the less-fortunate families in the area was aptly named after St Anthony, who is the patron saint of the poor. Saint Anthony, also known as the saint of the people, is known to be called upon through pray to intercede with God when items have been lost. (Picture of Saint Anthony holding the Christ child) Due to the Group Areas Act, the Sisters were forced to seek land elsewhere to build a new school and in 1963 the last group of children relocated to the new building in Gordon Road, Heathfield where it is currently situated.
In 1964 SrClarina, the principal of the school, was transferred to George to take up a new position within the Holy Cross Community and Mr William van der Horn was appointed as the first lay principal. Upon his retirement in 1993, Mrs Joan Felix held the post of principal until July 2000 and she was succeeded by the current principal, Ms Gloria Naidoo. In 2016, the school will celebrate its centenary. We hope that you will enjoy browsing our website further.